Back to Italy - Tuscany, Umbria, and Rome
You can navigate to the pictures of my trip by clicking on the thumbnails in the narrative. You may also scroll all the way down to the bottom of the screen, where there are links that will take you directly to the photographs.
The Story of This Trip
My friend Ben from Portland rents part of a home in Tuscany, in the Chianti country not far from Siena, for a couple of weeks every year. I was delighted when he asked (way back in February) if I would join him this year. My friend Jeff was interested in sharing the house with us, as was Ben's friend Steve from Seattle.
Jeff and I flew into Rome, rented a car, and met up with the other two, who had already been in the house another week. We stayed there for five wonderful days, after which Jeff and I drove back to Rome, where Jeff, his brother Dan, Dan's wife Renee, and our friend Lilli had rented a flat near St. Peter's. I stayed in Rome a couple nights and then went back home; the others stayed an additional week.
The house in Tuscany, near a very small town named Vagliagli, was well located for making day trips. In addition to a walk into Vagliagli and a number of trips to another nearby small town, Castellina in Chianti, we took drives to:
San Gimignano, a fascinating medieval town;
Siena, where I had spent a day last year;
Deruta, which I had visited last year to shop for Italian ceramics - majolica;
Spello, a town in Umbria not far from Assisi;
and Assisi itself.
Vagliali: Our House and the Surrounding Countryside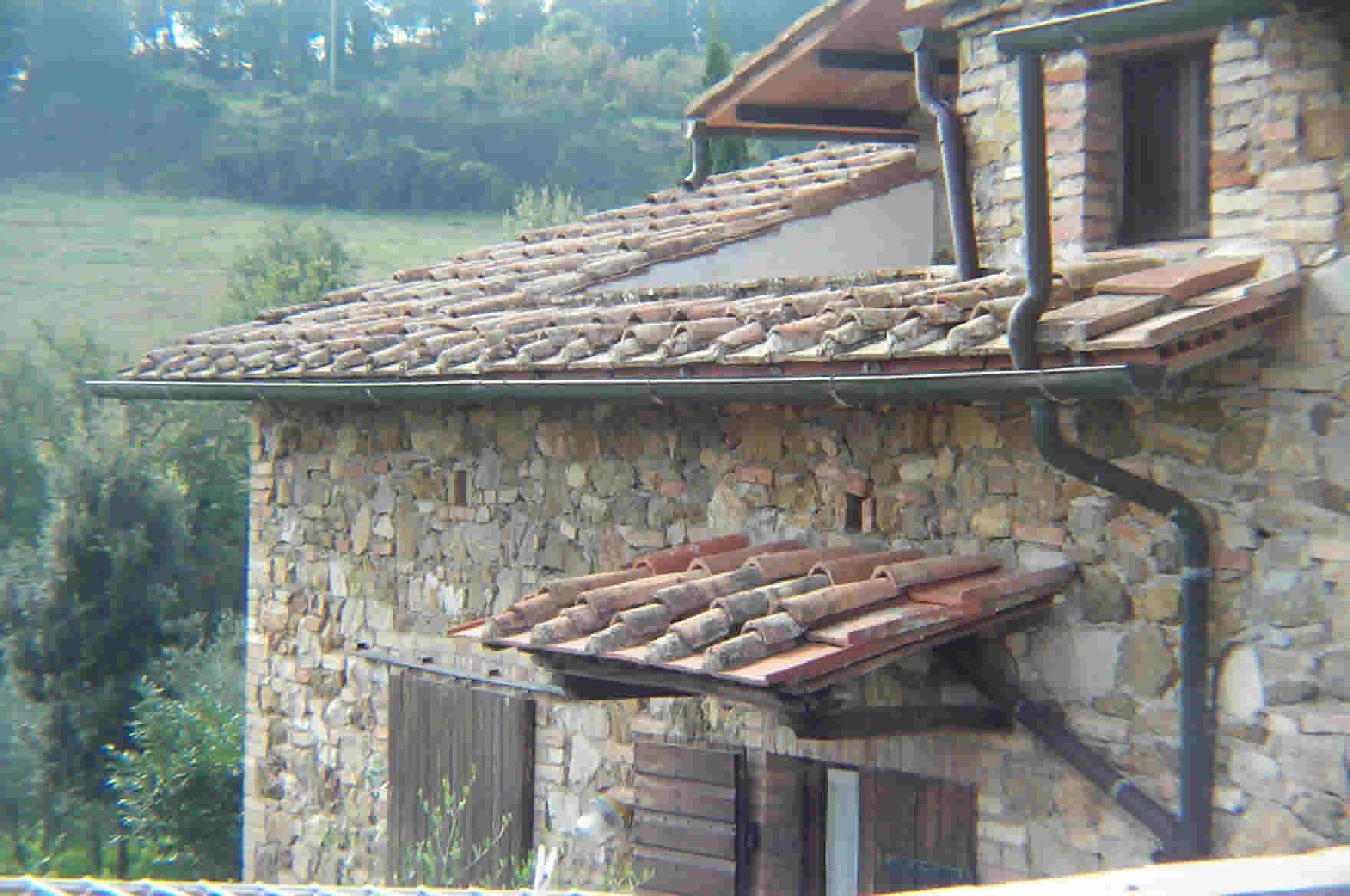 We arrived at our meeting point in Castellina in Chianti around 2 PM on Sunday. We had a light lunch, called the house, and Ben came out to meet us and take us back.
By the time we arrived, it was late afternoon. The morning haze had lifted, and we were treated to incredible vistas from the back balcony of the house, which kept getting better and better as the sun went down. What a treat...
The house was great. It sits on beautiful land covered with grapevines and olive trees. We arrived in Tuscany shortly before the grape harvest, so the grapevines were laden down with grapes - particularly beautiful. The olive harvest is in November, so the olive trees were just starting to bear fruit. Our rental was for the top floor of the house, which has four bedrooms, two baths, a fully equipped kitchen, a comfortable living room, a great balcony, and a swimming pool that we did not use as it was just a bit too cool.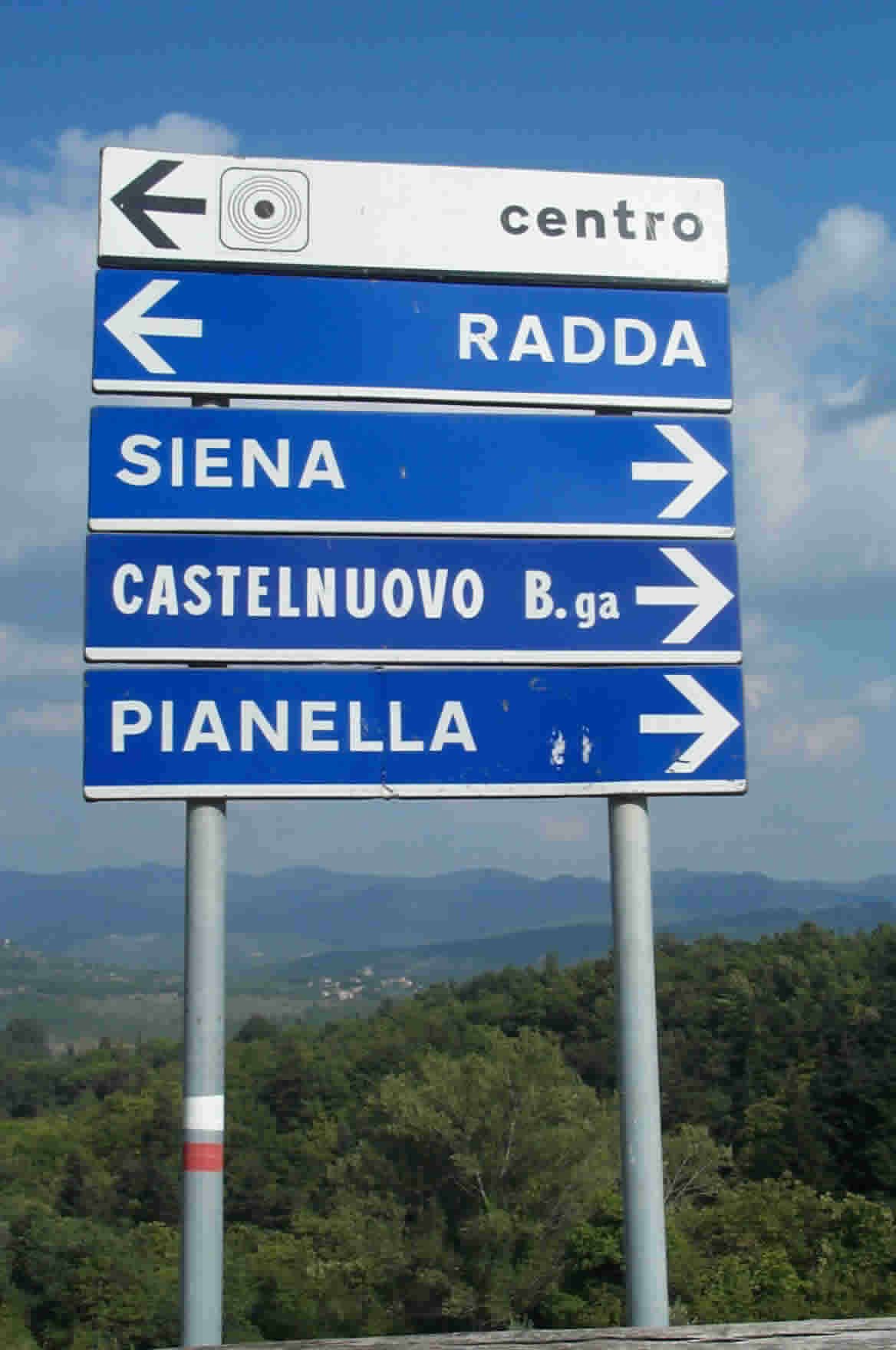 The house is located just outside of Vagliagli, a small village in the heart of the Chianti country. It's about 20 minutes north of Siena, 40 minutes south of Florence, and 10 minutes east of little Castellina in Chianti. Vagliagli is tiny, maybe 500 people, a couple of restaurants, a bar, a little market and a church. We only visited Vagliagli once when we walked there from the house. The country around Vagliagli is heavily agricultural, the primary crops being grapes, olives, and figs.
Two Day Trips in Tuscany
Our rental house was well situated for day jaunts in Tuscany. While not really that close to any decent sized town - with even tiny Castellina in Chianti about a ten minute drive away - it was located such that a 60 to 90 minute drive could take you to some very interesting places. Jeff and I identified Siena, San Gimignano, Deruta, Spello, and Assisi as places we would like to visit. Even though Florence was pretty close, we decided to skip it in favor of some of the smaller towns - visiting a big place like Florence felt like too much of a major undertaking, maybe a bit out of scale with our rural existence in Vagliagli.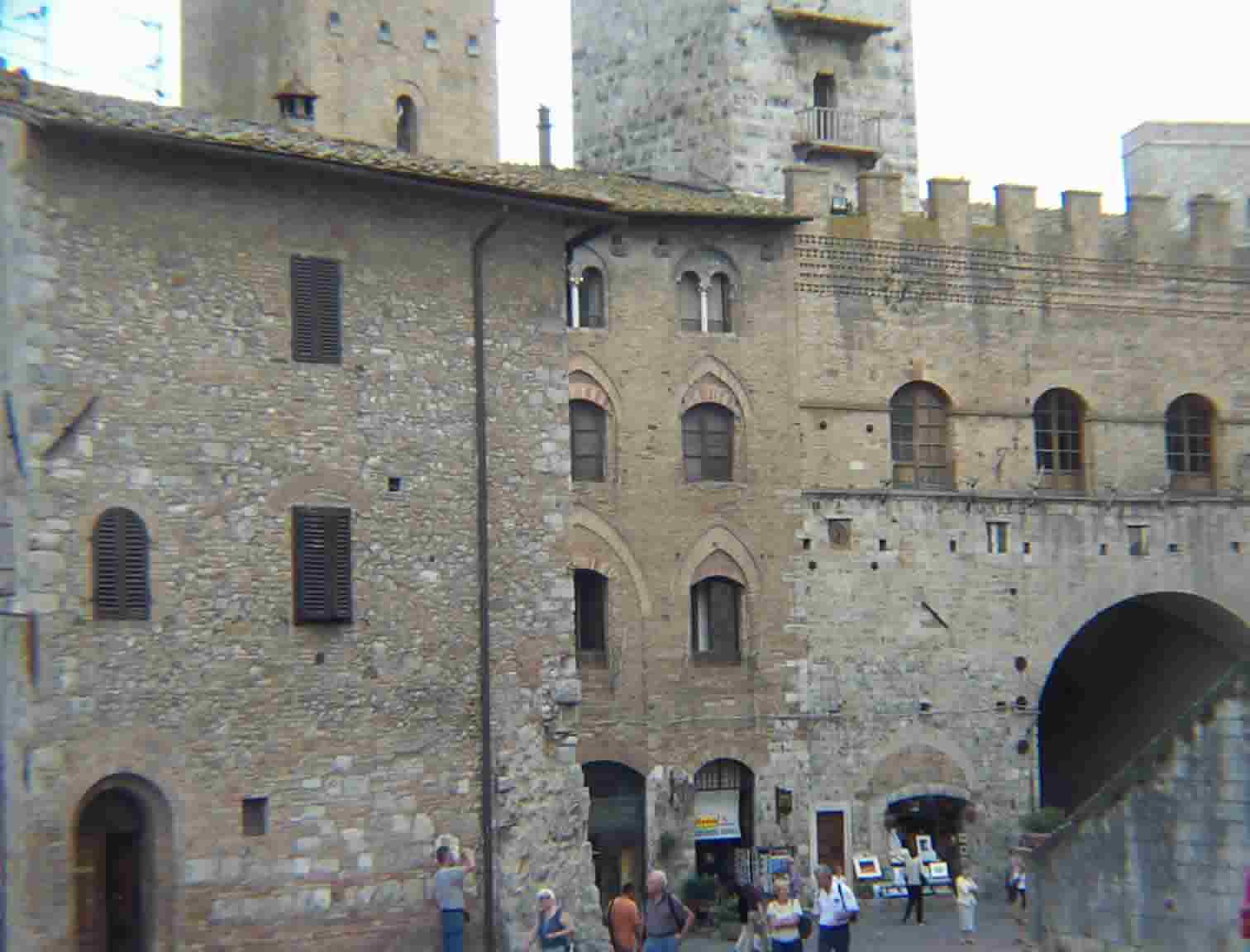 The day after we arrived, we took off around 10 AM for San Gimignano. The second time I went to Italy, I was in Florence and had a chance to go visit San Gimignano. I passed it up, as I was so enjoying Florence, but always had it in the back of my mind that if the possibility presented itself, I would like to go there. The drive through the Tuscan countryside - rolling hills with vineyards and olive groves - was beautiful. We made our way through Castellina in Chianti and Poggibonsi to the small medieval town of San Gimignano.
Like many Italian towns, San Gimignano is a hill town. As you approach it from the west, you can see atop the hill, with its its many towers reaching up for the sky. The effect is quite impressive and beautiful. We secured a parking space - not an easy feat - and happily spent our day walking around San Gimignano's ancient streets and piazzas, visiting the small museum in the People's Palace and then climbing the 200 steps up the tower adjacent to the museum, having lunch, and finally visiting the Museum of Torture and having a gelato before heading back to the house.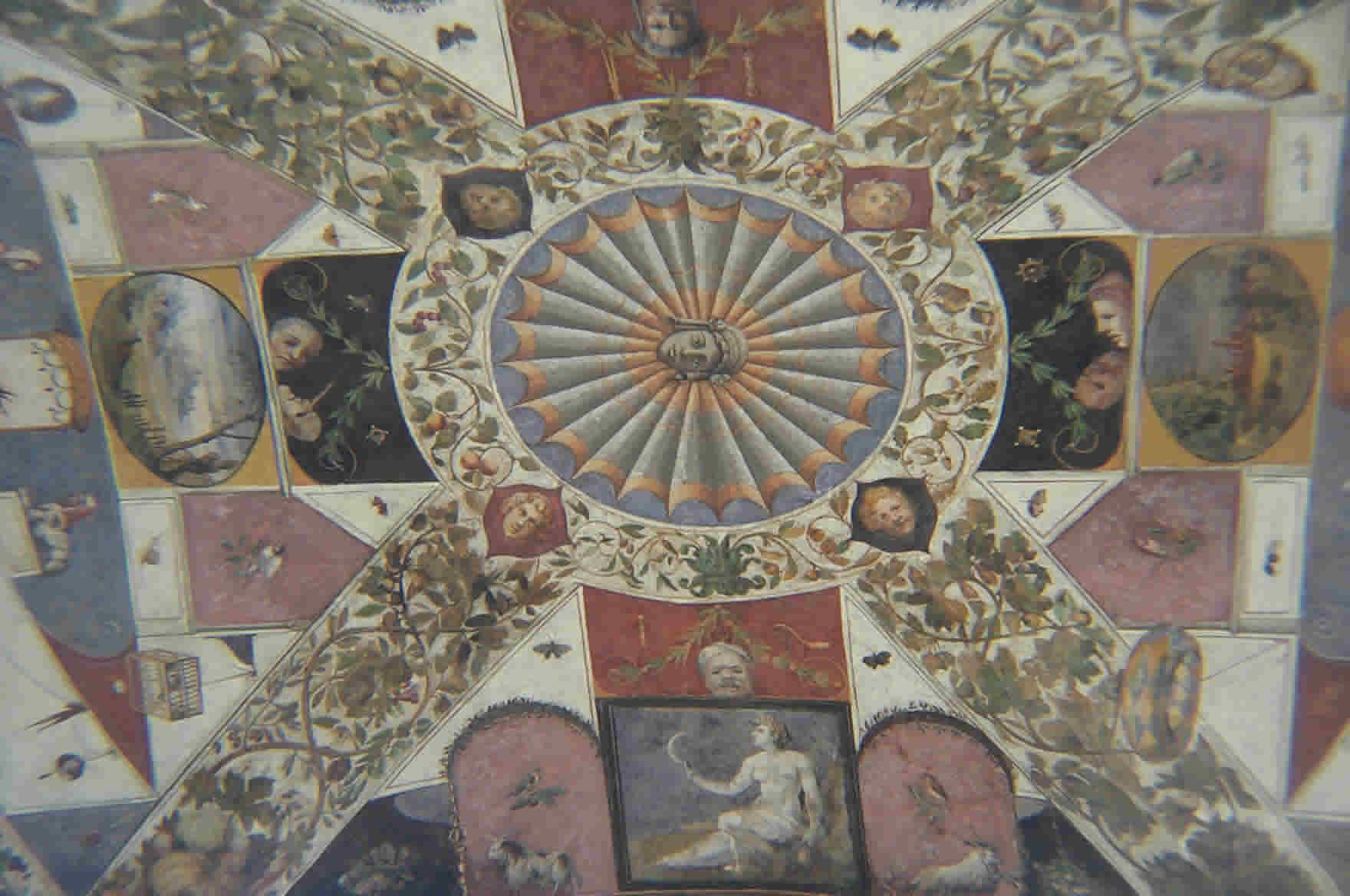 The following day, we visited Siena. I had visited Siena on my last trip to Italy and enjoyed it tremendously. I was looking forward to revisiting the fantastic Piazza Del Campo, one of the most beautiful urban spaces in the world, and perhaps climbing the tall Torre del Mangia in the Pallazzo Publico, which sits on the Piazza del Campo. Jeff was interested in visiting the Duomo (Cathedral), and we were both interested in shopping opportunities. In particular, I wanted to revisit a small store I had visited on my last trip called Al Palazzo della Chigiana - a deli with fantastic local products, the owner of which, Antonio, had befriended my mother and I when we visited his store last year. I had some photos of that visit that I wanted to give to Antonio.
We made our way to Al Palazzo della Chigiana, stopping first at the Accademia Musicale Chigiana, which is just a couple of doors down. Our friend Ben had told us that the courtyard was fantastic - and he was right, it sure was - decorated with beautiful frescoes in very good condition. We stopped at Antonio's store, said our hellos, gave him the pictures (he was delighted and remembered our previous visit), got fed nearly an entire meal full of fabulous local Pecorino cheeses and wild boar salame, and then made our way to the Duomo.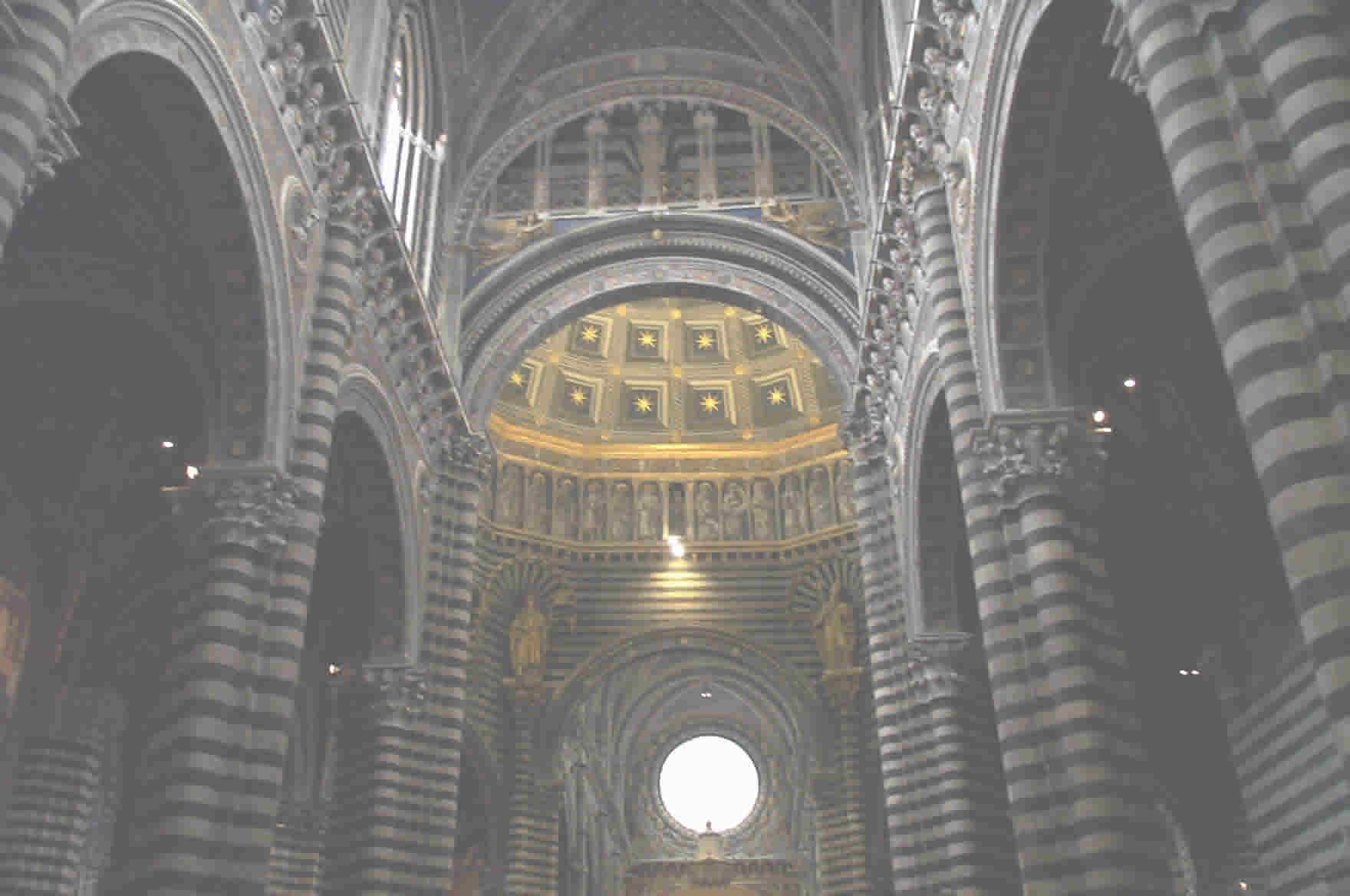 From my visit last year, I had thought of the Siena Duomo as just another big, dark European church. What I didn't realize is that the reason it was so dark was that the floors were covered eleven months of the year. I had assumed the church was undergoing restoration last year. It turns out that they uncover the floors one month a year, in September, to give people a look at them, and then cover them the rest of the year to protect the beautiful masterpieces that comprise the floors, or "pavements" as they are also known.
Uncovering the floors also dramatically lightens up the Duomo's interior, showing off the lavish beauty of the place. This is really one of Europe's grand churches - but only in September! I was wowed by the many beautiful art masterworks, the stone itself, striped so as to mimic the exterior walls, and the beautiful Piccolomini Library, covered in frescoes by the renaissance artist Pinturrichio portraying the life of Pope Pius II, a local Siena boy who made it big.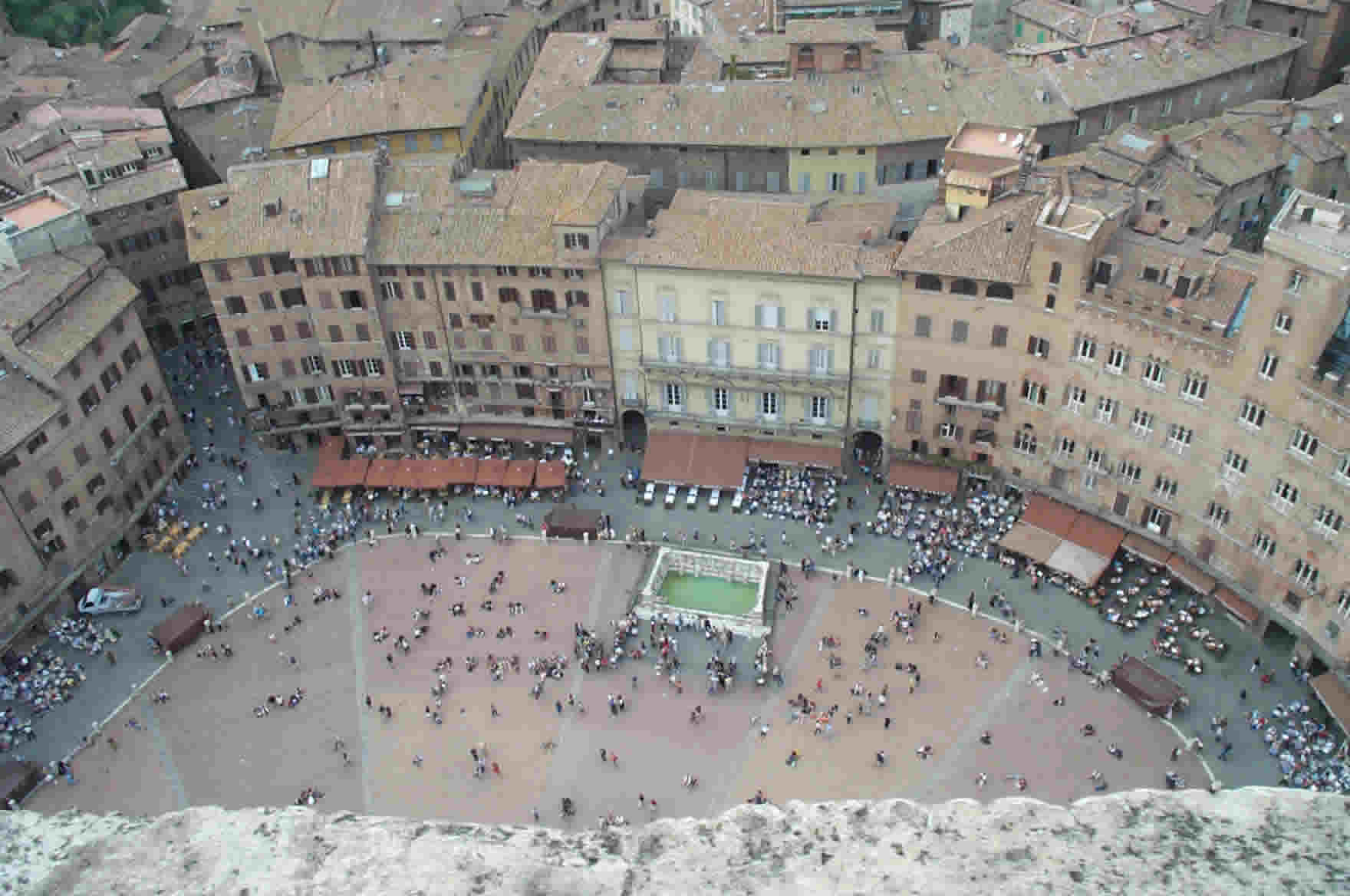 After our visit to the Duomo, we had a wonderful lunch, fortifying ourselves for a 318-step climb up the Torre del Mangia. The center of Sienese life is the huge and architecturally glorious Piazza del Campo, which is framed by the Palazzo Publico, built between 1250 and 1315 to house the republican government. The Torre del Mangia is built into the Palazzo Publico and overlooks the Piazza del Campo. We bought tickets to see the interior of the Palazzo Publico and to climb the steps of the Torre. The Palazzo Publico houses a small museum containing the famous frescos of "The Allegory of Good and Bad Government," which depict the fates of cities ruled well and poorly. The ferscoes are located right in Siena's old legislative chambers - an attempt to inspire the bodies assembled there. Then we climbed up the tower to the very top for an incredible panoramic view of Siena and particularly of the Piazza del Campo.
A Day Trip to Umbria: Deruta, Spello, and Assisi
After a day off to recover from the big climb up the tower and from all the sightseeing and shopping in Siena, Jeff and I took off for our big Umbrian adventure. I wanted to visit Deruta to shop for some more majolica (Italian ceramics). Jeff wanted to have a look at the ceramics and shop vicariously. I wanted to visit a hill town, Spello, that a friend of mine had recommended, and we both wanted to go to Assisi to hang out for a while.
I had a successful and fun time shopping in Deruta, revisiting some of the same dealers I had met last year, such as Geribi, Miriam Ceramiche, and Franco Mari. I bought a few pieces to fill in what I had bought last year, and scored another great buy when Miriam turned me on to the fact that the ceramics museum in Deruta had a good selection of books about both the history of majolica and the current state of the art as practiced in Deruta. I picked up a couple very nice coffee table books at the museum.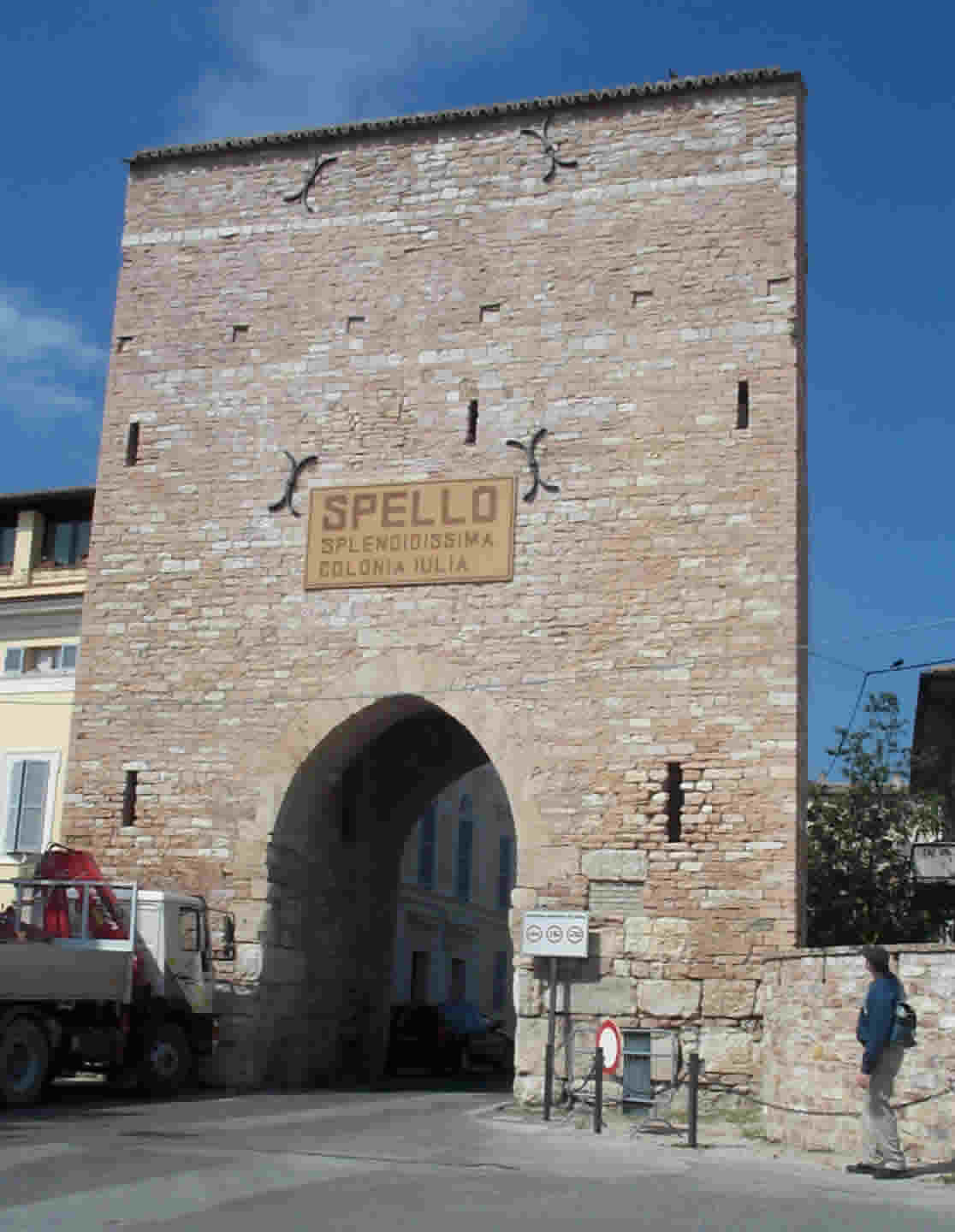 We left Deruta around noon and arrived in Spello about a half an hour later. Spello was described in Jeff's guidebook as "what Assisi would be like today had there been no St. Francis." It's your basic, charming Umbrian hill town, nothing in particular to recommend it but extremely pleasant nonetheless. We took a leisurely walk through Spello, looking for a restaurant with a paranoramic view that my friend had suggested. When we finally got there - it was way at the top of the hill, of course - it was closed. Oh, well; no problem finding a good restaurant in Spello. We walked down the hill a little and came upon the Ristorante Il Pinturrichio, which served us one of the finest meals of our entire trip. (Spaghetti with truffles for both of us, chicken in a prosciutto and mozzarella suace for me, and lamb for Jeff.) We also enjoyed the fact that the restuarant had been named for the artist whose work we encountered in the Siena Duomo and other places along the trip. We stayed in Spello a little longer to browse through a couple of food shops, and then hit the road for Assisi.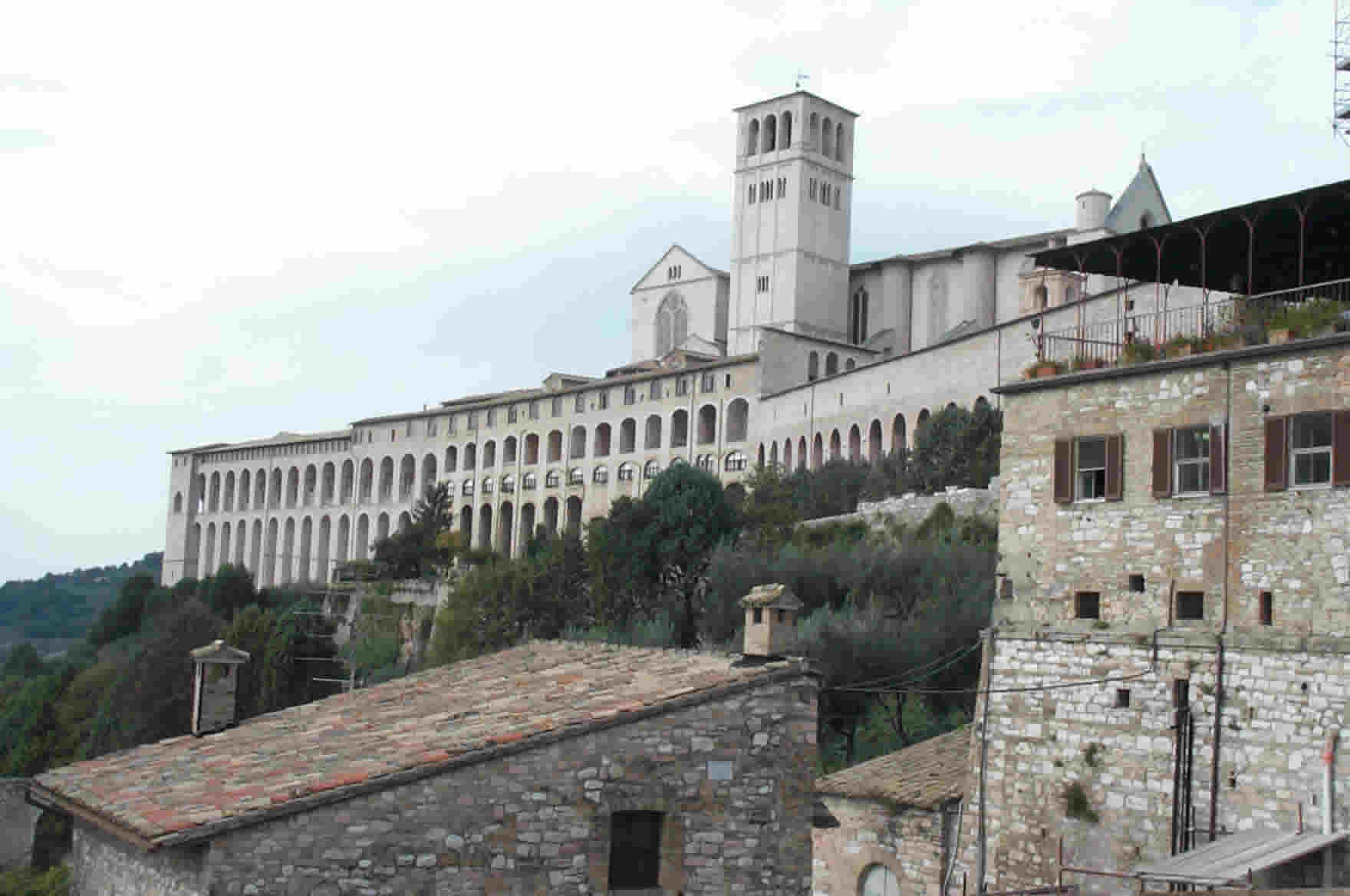 Jeff and I parked in the lot just below the Basilica of St.Francis. Parking was extremely tight and I am glad my Italian, although adequate, is not nuanced enough to understand the invectives that were sent in my direction with accompanying dirty looks. Oh, well. We ran into the guy that was hurling them at me over and over again that day in all the most sacred places in the Basilica - the tomb of St. Francis and the founding brother Franciscans, and many other places in the church itself. When we ran into him again in the gift shop, he just smiled and shrugged. Assisi is wonderfully transformative that way.
For me, the highlight of Assisi is just being in the town and soaking up the peaceful atmosphere. The Basilica is probably the most famous church in Assisi. The Giotto and Cimabue frescos in the Upper Basilica are remarkable, as are the ones in the Lower Basilica painted by the so-called Master of St. Francis. The tomb of St. Francis and the founding brothers is remarkable in its own way. It's just a small chapel in the basement of the Basilica, rather humble, but people stop by and stay a while to pray, either formally in groups, or informally. Many of the churches we visited in Italy have the feel of being primarily tourist attractions, but the spiritual inclinations of the visitors to the Basilica, and especially to the tomb, are palpable.
We decided to head out of Assisi, down the hill, and drop by the huge church, Santa Maria Degli Angeli. The church itself is unremarkable but for the fact that it contains the original hut St. Francis and his brothers lived in during the formation of the Franciscan order. The hut was never moved - the immense church was built around it. The location where Francis died, just outside the hut, is also within the church's interior walls.
As it was getting late, we decided to head back to Tuscany - to Castellina in Chianti for a yummy pizza, and then off to bed.
Two Nights in Rome
After a wonderful breakfast made by Ben Friday morning, we took off to meet up with Jeff's brother Dan, Dan's wife Renee, and our friend Lilli in Rome. We stopped for lunch at an Autogrill on the A1 autostrada, then called the flat that Jeff and Lilli had rented. It turned out that Dan and Renee had just arrived. We let them know we were about three hours from meeting up.
Lilli was another story. She had been spending some time in Belgium and had bought a rail pass to take a leisurely train trip down to Rome, with the idea of perhaps stopping in Venice and Florence along the way. We had discussed the possibility of meeting in Florence Friday might for dinner and then driving to Rome on Saturday, but with us leaving for Rome on Friday instead of Saturday as we had originally planned, I didn't even know if I would see her in Rome since I was returning home Sunday.
We got to Rome airport around 2:30 PM and turned in the rental car. We stopped for coffee and I had a couple of errands I wanted to run before we took a cab back to the city. I dragged poor Jeff's butt all over Rome airport, looking for a cheap piece of luggage to take back all the treasures I had accumulated along the way. We finally figured out that such a bag could be had in the Tabacchi store on the ground level of the airport.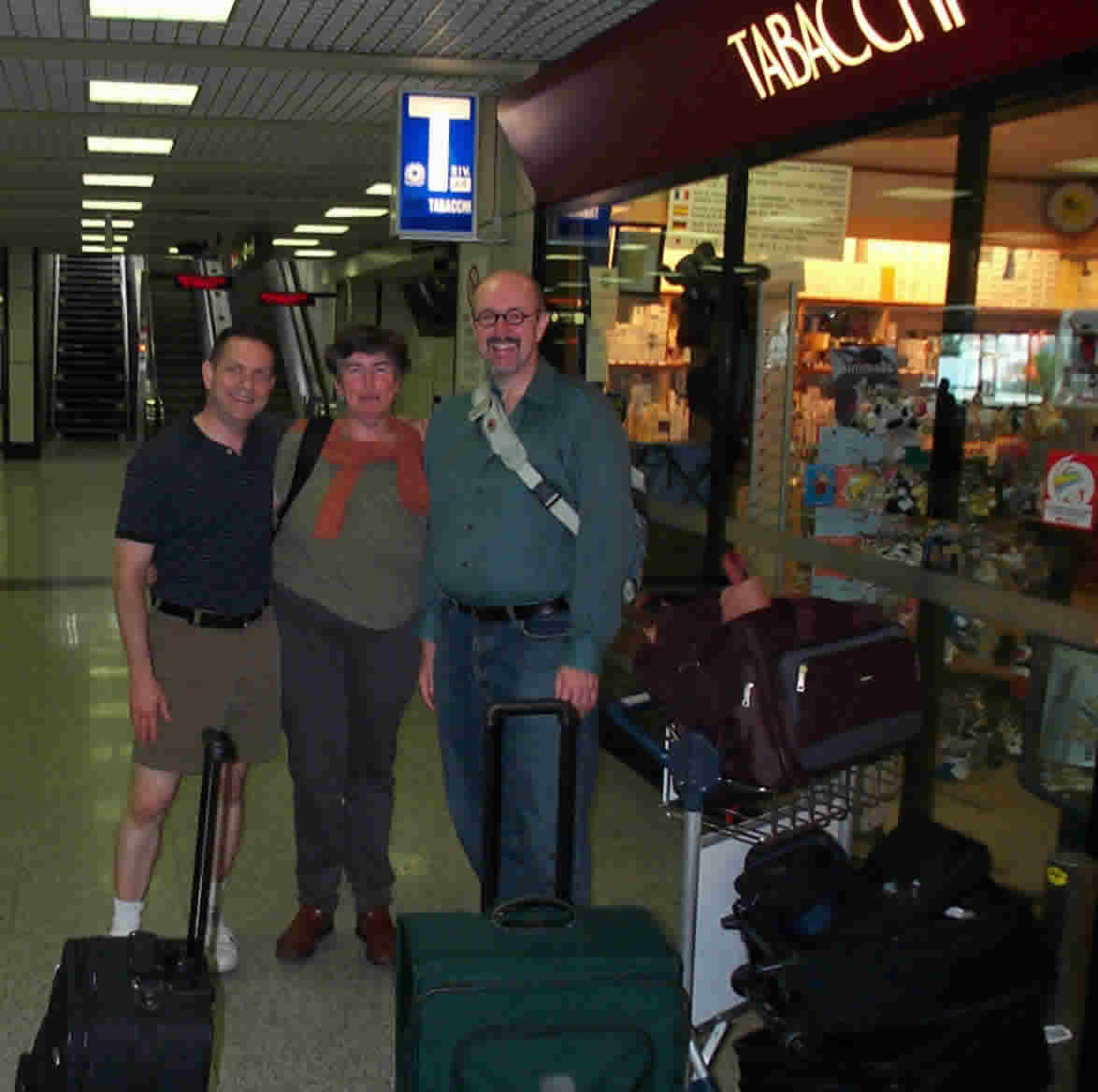 Then the most amazing thing happened. When Jeff got to the ground floor, who should he run into but - Lilli! She had decided not to use the rail pass but instead found a reasonable air fare from Brussels to Rome. What an incredible, fun coincidence that we should run into each other halfway 'round the world.
We celebrated with hugs and an animated cab ride into Rome, where we met up with Dan and Renee at the flat at Borgo Pio 76.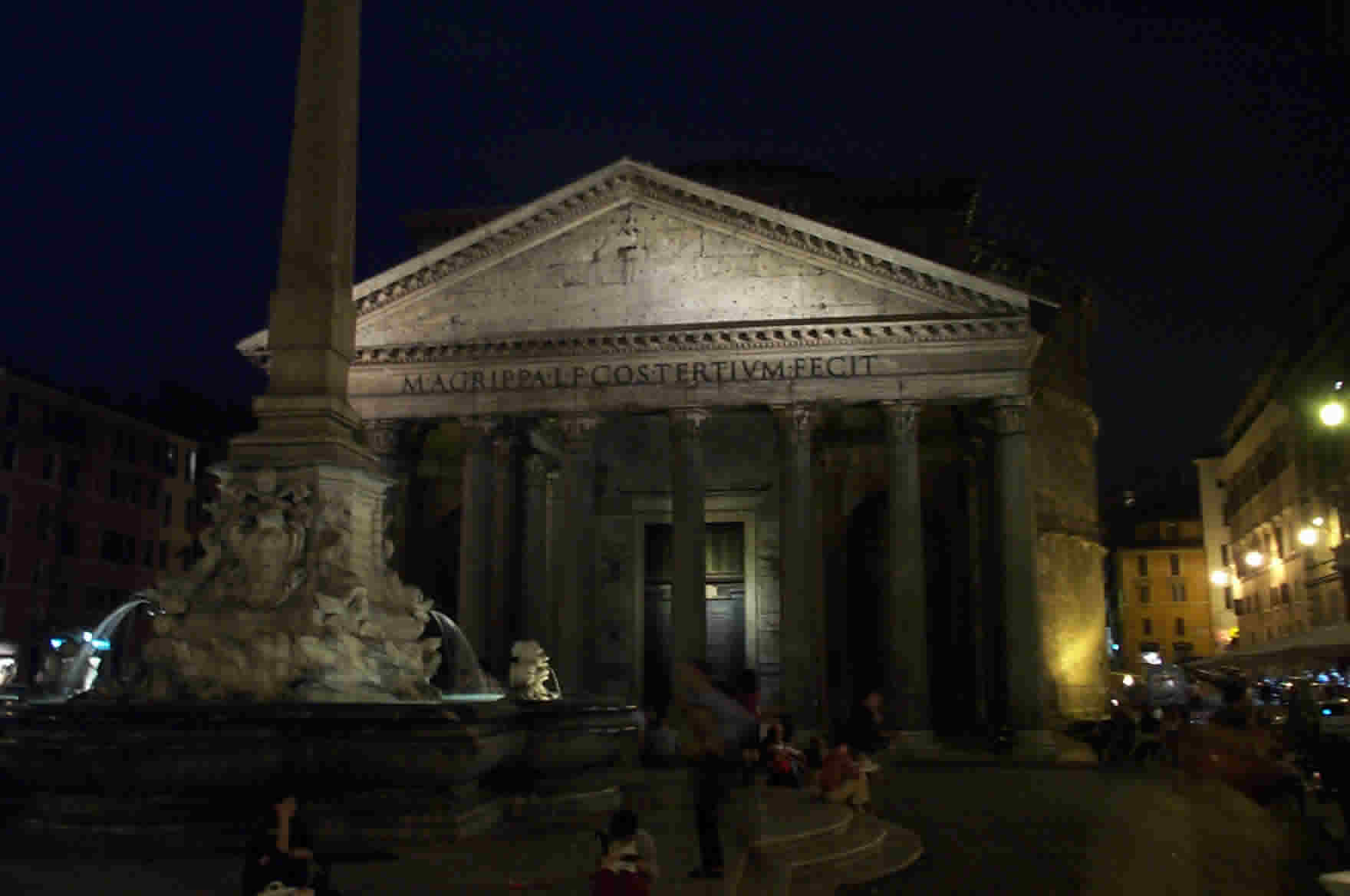 After introductions and tours of the flat, we set out for a walk. From our flat a couple of blocks from St. Peter's, we crossed the Tiber and headed towards Piazza Navona, a great central spot in Rome. Dan and Renee had their first pizza of the trip in an open air restaurant right on the Piazza, and Lilli and I shared a tartufo, which for some reason has become a Piazza Navona tradition. We then headed over to the Pantheon, and Jeff, Dan and Renee went back to the flat. Lilli and I found a great little restaurant on the Campo dei Fiori, where I had the best speghetti alla carbonara that I have ever had the pleasure of comsuming. We tried to get into "La Carbonara," but it was too busy, so we went to the nearly empty place right next door and ended up having a wonderful meal.
Since Saturday was my last (and only full) day in Rome, my friends indulged me in asking what I might like to see. Since I have had the good fortune to have already been In Rome twice, I decided I'd like to go to a couple of places I'd never visited - the Baths of Diocletian and the Trastevere neighborhood.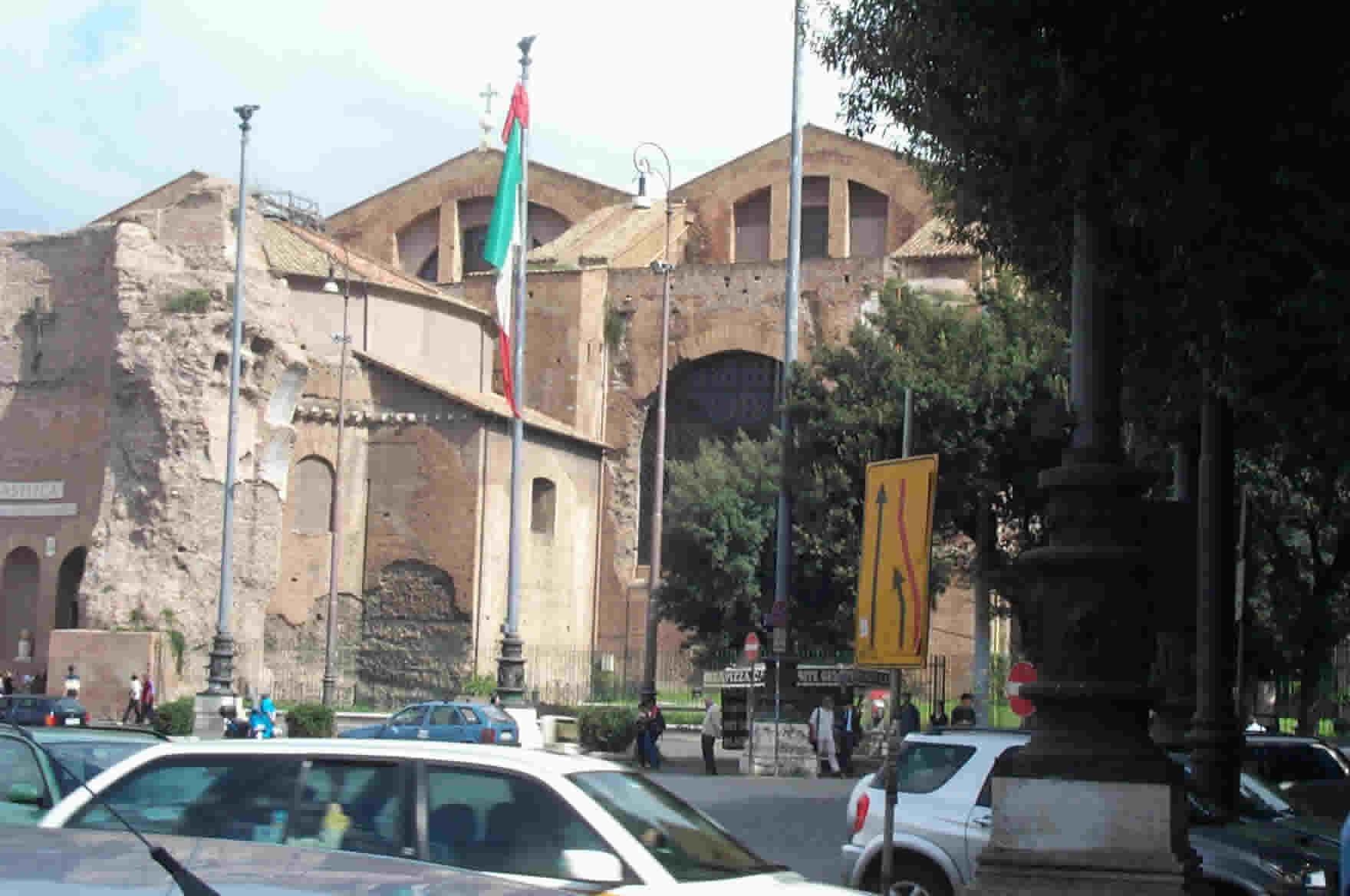 The Baths of Diocletian was a huge Roman bathhouse, accomodating thousands of people and covering around 32 acres. While most of it has fallen down or been torn down, a good deal of it still exists, part of it in the form of the Basilica of Santa Maria degli Angeli and another part in the form of the Museo Nazionale Romano. We visited both the church and the museum, both quite impressive.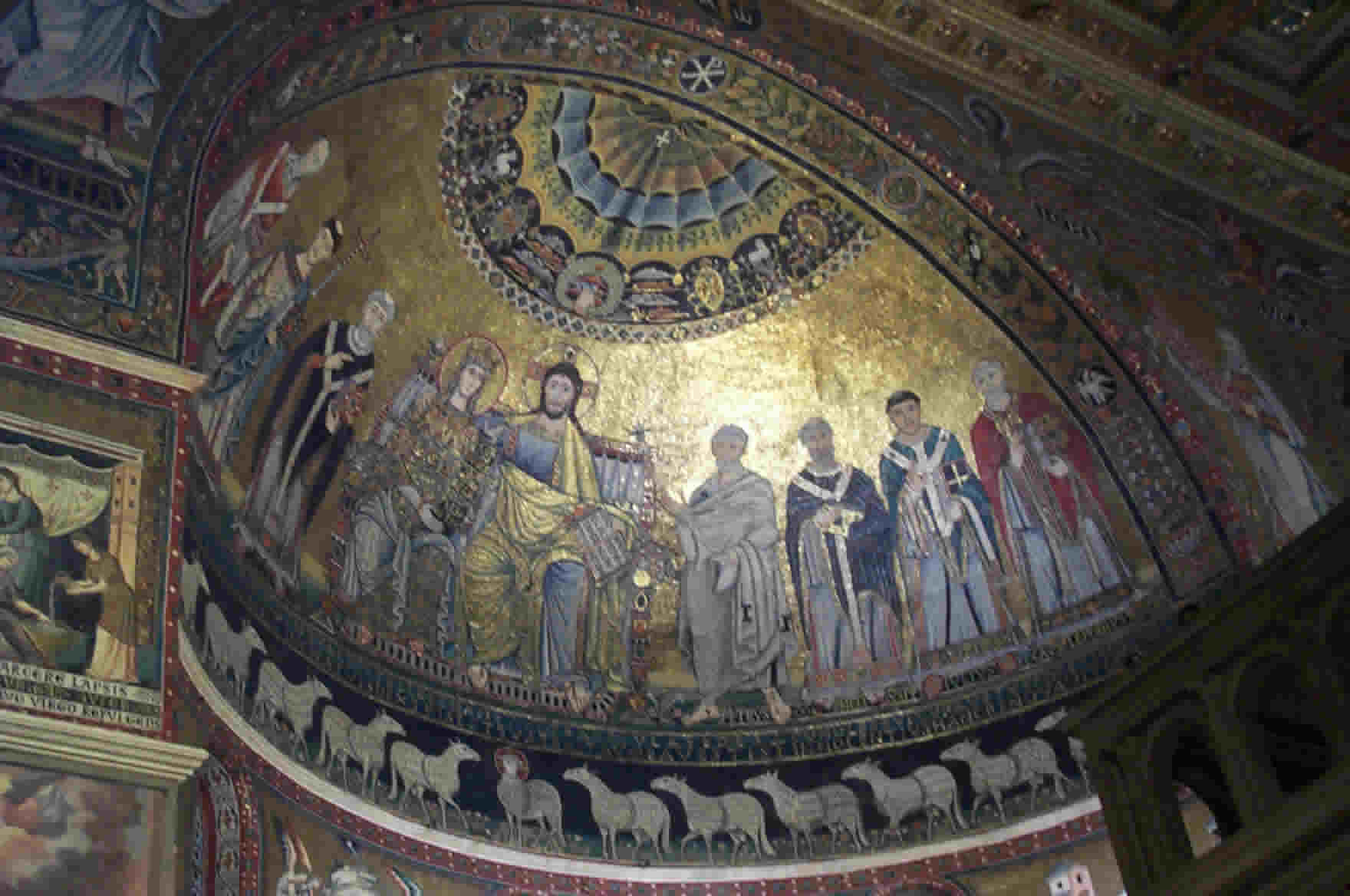 Saturday evening, we took a cab to Trastevere, a neighborhood to the south of St. Peter's. It's a great walking neighborhood with lots of interesting shops. Not too much to see here, although we spent some time in Santa Maria in Trastevere church, which has some terrific mosaic art. After a glorious al fresco dinner just off the piazza in front of the church, we took a long, leisurely walk along the Tiber back to the flat. The trip ended Sunday morning for me, but Jeff, Lilly, Dan and Renee stayed on in Rome for more adventures.