My Trip to Venice, Siena, Perugia, and Deruta
You can navigate to the pictures of my trip by clicking on the thumbnails in the narrative. You may also scroll all the way down to the bottom of the screen, where there are links that will take you directly to the photographs.
The Genesis of a Trip
The very first year I moved to San Francisco, I found this wonderful shop in North Beach called Biordi d'Italia. Quite unlike anyplace else I had been in the United Stats, they carried a huge variety of a type of Italian ceramics called majolica. Majolica is beautiful hand painted stuff, and was the primary type of ceramic used in the west before Europeans discovered kaolin in Germany and with it the secret of making porcelain.
I had been fascinated with majolica since my very first visit to Biordi, nearly twenty years ago. But majolica is rather expensive, and something that I would consider a frivolous expenditure. So I bought bits and pieces - a mug here and there, over the years, but never the dinnerware and larger pieces that I really liked.
2000 was a very good year for many of us in the computer software industry, and I felt that the time had come to acquire some majolica. I decided to go to Italy and have a look at the majolica at the source.
That night, I went home and did some research about majolica on the Internet. I found some of the places where majolica is made, saw a few of the names I had recognized from Biordi's catalog, and started to toy around the idea of going to Italy to buy the stuff.
In the late fall, I talked to my mother a little about going to Italy. We had taken a number of vacations together, but it had been a while since we had traveled together. She was delighted with the idea of going to Italy, where we had traveled together 15 years ago. We decided on an itinerary:
Venice, because we had had such a bad time there on our first visit and figured that there had to be something to it;
Siena, since I had missed it on other trips to Italy, mainly because no one could convince me to leave Florence once I arrived in that wonderful city;
And finally Perugia, a place neither of us knew nothing about, but which was the largest city within striking distance of the major center for majolica manufacture in Italy, a town called Deruta.
The day we left for Europe, there were predictions for the worst snowstorms on the Eastern seaboard in fifty years. I called Continental OnePass, with whom we had booked award travel for the trip. The good people there were kind enough to rearrange our itineraries. They flew Mom out to San Francisco a day ahead of schedule, and instead of meeting each other at Newark Airport, we flew directly to Milan from San Francisco on an Alitalia 767. After a great flight, we made an easy connection at Milan Malapensa Airport, and then flew to Venice. After an hour long boat ride through the lagoon and through the main canal of Murano, we stopped at Piazza San Marco in Venice, and found our way to our hotel, the Europa e Regina, a stone's throw from San Marco.
5 Days in Venice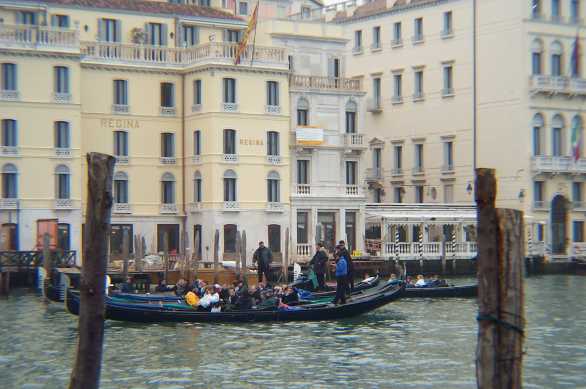 Having done a lot of business travel the preceding year, I was fortunate enough to book a room right on the Grand Canal for five nights, all for free. The room itself was great, and the service was first class. Owned by the Westin chain now, the Europa e Regina is an elegant hotel in the grand European tradition.
We both loved looking out the window and watching the boats go by on the canal. What a treat...
Across the canal from the hotel is the beautiful old (but a little run down) customs building, the Mare di Dogana, with a beautiful golden orb atop it, and a huge baroque church, Santa Maria della Salute. We had great views of both when the weather was clear. Much of our time in Venice, there was heavy fog and we couldn't even see across the canal.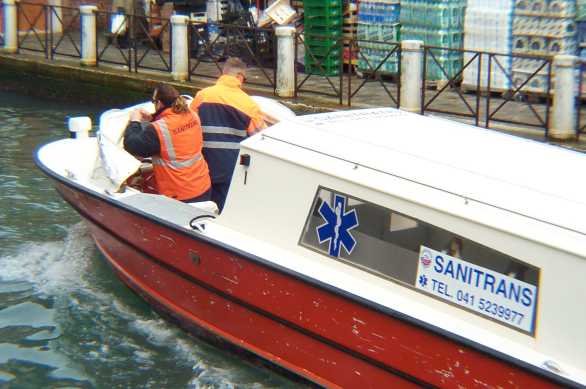 Venice is a city of boats. No surprise there, as it's famous for gondolas, water busses - vaporetti - and water taxis. But the dependency upon water travel was particularly delightful in two regards. First, Venice is incredibly quiet. You rarely hear loud motors running because there are no cars. Second, you see all sorts of interesting and unexpected boats. We saw ambulance boats, garbage boats, construction boats, and many other kinds of boats that one never would have considered. The "bus" system is quite comprehensive and very good; we took the vaporetti everywhere we went.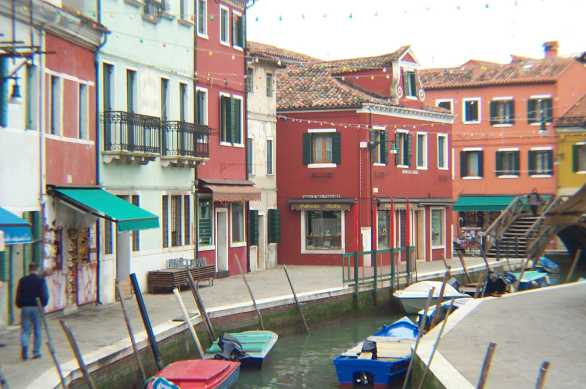 Our first day, we decided to take advantage of good morning weather and take a trip to two of the islands in the lagoon - Burano and Murano. We walked down to the San Marco vaporetto - public water bus - stop, took a vaporetto to the train station, then connected with one that dropped us off on the north side of Venice, and finally got on a crowded boat full of women who had been doing their day's marketing.
The boat took off across the lagoon, stopped at an island which serves as Venice's cemetery, and then dropped us off on the east side of Murano, so that we could connect with another vaporetto that would take us to Burano.
We got to Burano - a lovely, small island around lunchtime and found a seafood restaurant on the main drag, where we had a terrific relaxed meal with some of the local specialties. I had cuttlefish for the first time, a shellfish something like a combination between squid and shrimp. We spent about an hour walking around the island - not a whole lot to see there, just a charming place.
From there, we took a boat to Murano, famous for its glass. By then, it had started raining, and we spent most of the afternoon ducking into glass blowing exhibits, shops, and a cafe - partly just to avoid getting wet. Unfortunately, because of the rain, I didn't get any pictures of Murano.
Of course we purchased souvenirs made of Murano glass - how could we stop at this center for glass art and come back empty handed?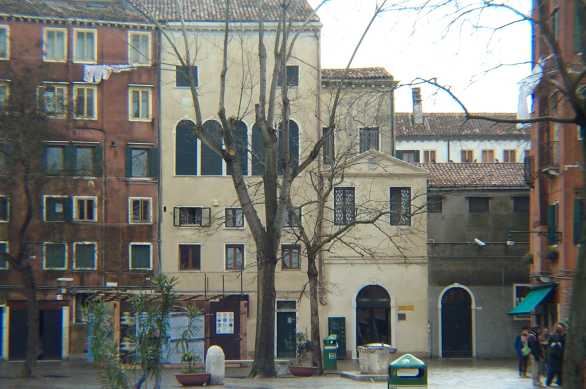 We spent a lot of time walking around Venice. Venice is truly a great walking city. It's small, easy to cover, and there's a beautiful surprise waiting for you around every corner. It's also easy to get lost - the maps never seem to quite match up with the streets, and it's very easy to make a wrong turn. But that's part of the fun of it, as you find yourself unexpectedly in front of some beautiful old building, wondering what it is, and trying to figure out where in the heck you are.
We wanted to go see the old Jewish ghetto, so we took a vaporetto there, and then walked all the way back to our hotel through the Cannaregio, Castello, and San Marco neighborhoods.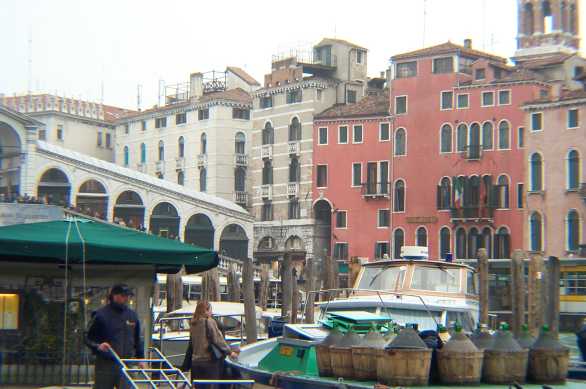 Another day, we took a vaporetto to the Rialto markets and walked around in the area around the markets and the bridge. The Rialto Markets were packed, full of life. We had a look at all the beautifully displayed wares and produce, stopping to buy some things to take back to our hotel room for a light lunch. The residential neighborhood nearby was quiet and charming.
After were had toured the Rialto area, we took a vaporetto back to the area across the Grand Canal from our hotel, and spent a while walking around in that part of Venice. We spent a little time inside of Santa Maria della Salute, the big church visible from our hotel room, and walked around the outside of the Mare di Dogana, next door to the church.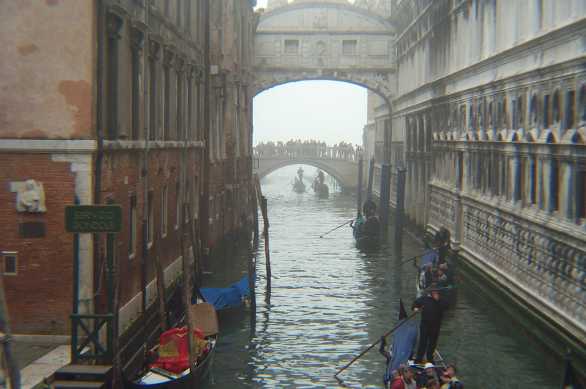 On yet another day, we walked all over the San Marco sestiere, looking for a church that my mother's doctor had suggested we go visit. We got lost a number of times, but finally found San Zacarias, which was set off in a sweet little piazza. We enjoyed the church itself, and the lovely surrounding neighborhood.
Southwest to Siena
After five days in Venice, we took a water taxi to the Piazzale Roma, a cheerless place with a huge parking lot. It's the place the road takes you to if you decide to drive to Venice, and it's the place in town where you can pick up a rental car.
After a few minutes arguing with the rental car agent about whether I was going to buy the insurance, we picked up our little Ford Escort and headed southwest. We stopped in Bologna for lunch, walked around a little, and stared at huge, impressive displays of mushrooms, salamis, and other gastronomic specialties in shop windows. We had a pretty good meal in a cafeteria, of all places - we decided to go for cheap and easy rather than elaborate - the salads were as fresh as could be, the pasta was al dente, the sauces were decent, and the price was right, especially after a week in Venice, which is a very expensive city, by the way.
After driving through the mountains in the fog, we reached Tuscany, drove past the outskirts of Florence, and then after not a little difficulty navigating narrow, confusing streets, found our way to our hotel in Siena by about 4 PM.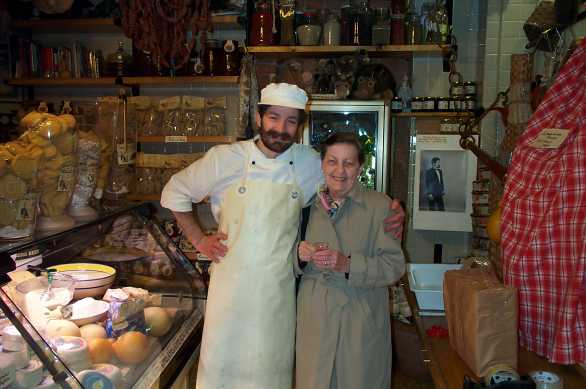 We took a short walk through the shopping district and it quickly became apparent to me that this was one interesting and beautiful town. The streets are narrow, it's very hilly, the buildings are old and interesting looking, and it all has a slightly medieval feel to it.
After a good night's sleep, we took a long walk through the streets of Siena the next morning. We visited the major tourist sites - the Cathedral and the main square, which is called the Piazza del Campo, and is one of the grandest and most harmonious public places I've ever been in anywhere in the world. After a nice lunch at a small restaurant off the Piazza del Campo, we picked up the rental car and headed east to Perugia.
Perugia and Deruta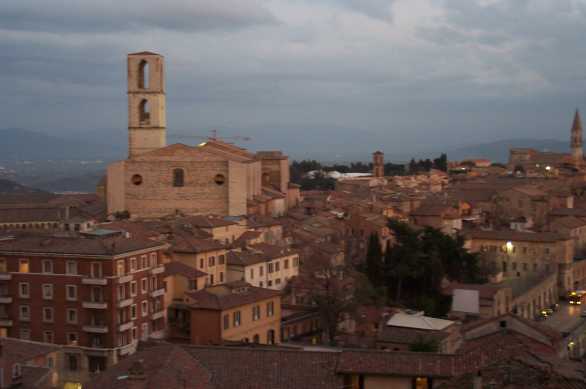 Perugia turned out to be a very pleasant surprise. We had booked a hotel there only because of its proximity to Deruta, where much of the majolica from Italy is crafted. Neither my Mom nor I knew anything about Perugia other than the fact that it was close to Deruta and Assisi.
Well, Perugia turned out to be interesting in its own right. It has a long and fascnating history, starting with the Etruscans and Romans, through the medieval feuds between the Guelphs and the Ghibellines, suppressed by the Pope and eventually restored to a measure of its past glory as capital of Umbria. I left Perugia wishing I had had more time to spend there. The meals we had there, even the very simple ones, were superb.
With its steep hills, beautiful biews, and Umbrian cuisine, I found Perugia nothing short of seductive.
We did not have much time to spend in Assisi this trip, despite its proximity to Perugia. (On a clear day, you can see the town of Assisi from the road just outside of Perugia.) We drove by and decided not to walk up one more steep hill that day. But we did get a good idea of the scale of the construction going on in post-earthquake Assisi.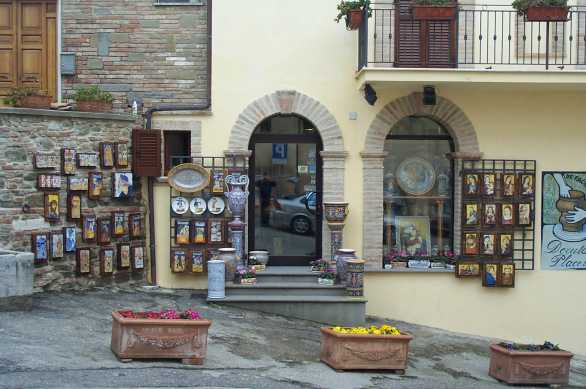 Ostensibly, the main reason for the trip to Italy was to shop for majolica. I was thrilled to drive into Deruta down a road literally lined with shops selling the stuff. Even better, we found out there was on old hill town just above the highway where there were even more shops.
A couple of my favorites were Geribi which carries many designs with animals, and lots of beautiful yellow-colored majolica, and Franco Mari (no web site). But my favorite shop in Deruta was Miriam Ceramiche, in the old part of Deruta, which carries wonderful designs by the artist Eugenio Ricciarelli, same as Biordi d'Italia. We spent a lot of time in Miriam's store, looking at various pieces, and she shipped me back a pretty good selection.
Also of interest in Deruta is the Museum of Ceramic Art, which gave us a little historical perspective on the art of majolica and its 800 year history in Deruta.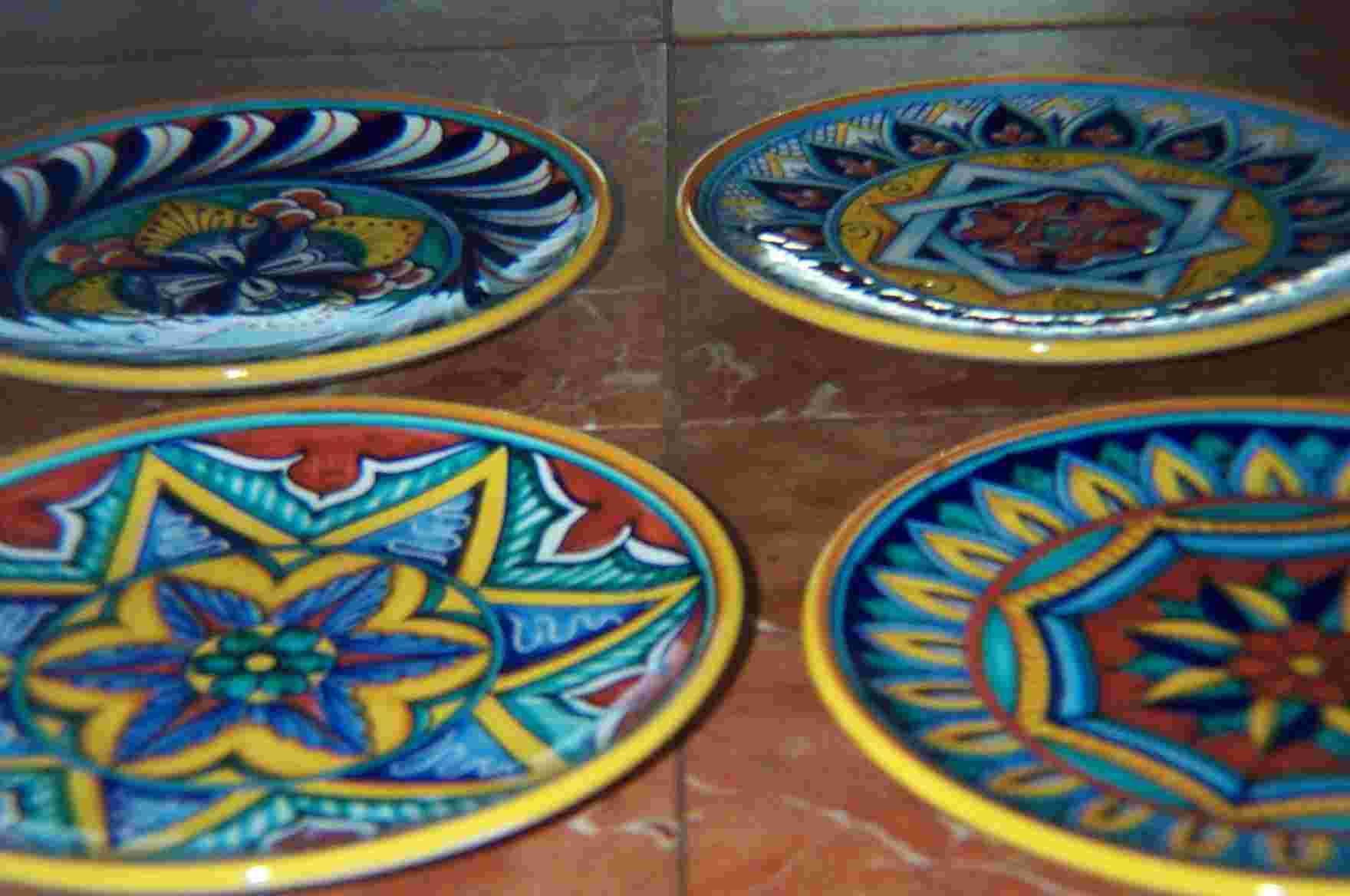 I took a few pictures of the majolica I had purchased in Deruta after it arrived in San Francisco. It came about 2 weeks after I got home, just as promised. Turns out Miriam's husband just took the ceramics down to Mail Boxes Etc. in Foligno (near Perugia) for packing, and shipped it to the United States via FedEx. The world is getting to be a very small place!