Barcelona and Valencia, Spain, 2003
You can navigate to the pictures of my trip by clicking on the thumbnails in the narrative. You can also scroll all the way down to the bottom of the screen, where there are links that will take you directly to the photographs.
The Story of This Trip
One of Chris' and my earliest conversations was about travel, and one of the things I asked him was where in the world he would most like to travel. To my surprise, he said Spain, and especially Barcelona. I guess the 1992 Olympics had made a pretty big impression on him.
In winter of 2003, plane fares to Europe were terrific. We are used to seeing $300 and $400 fares from San Francisco to London and Paris, but fares to smaller destinations are usually more expensive. So when I found a very reasonably priced round trip to Barcelona, I jumped on it. A few weeks later, we took off for Spain.
Since the flight was on KLM, we had a connection in Amsterdam. And since it was a four hour connection, we decided to hop into town. We got about an hour and a half to bop through the streets of Amsterdam and poke around. It was a lot of fun and broke up the long day of travel nicely.
We arrived in Barcelona around 6:30 in the evening. Figuring out how to get to the airport train station was an adventure. Transferring at Sants station after such a long flight and dragging around a couple of bags sapped what little remained of our energy. By the time we got to Drassanes subway station, found our rental flat, and hauled our bags up three flights of stairs, we were pooped. We took a short walk around the neighborhood to get our bearings and happily slept until about 11 the next morning.
Our flat in Barcelona's Barri Gothic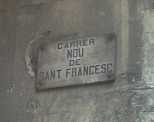 Hotel rooms in Barcelona were pretty expensive, but we found good deals on vacation rentals through oh-barcelona.com. My friend, Ricardo, who had lived in Barcelona for about ten years, looked through the list and told us which locations might be best from the dozen or so flats that were in our price range. The one we picked was pretty close to the foot of La Rambla, a couple of blocks away from the statue of Columbus and the Drassanes boatyards. It turned out to be a great location, because it was very convenient to a Metro station and in a neighborhood that was interesting in and of itself.
The Barri Gothic is the old part of the city. From our flat, we were able to walk to the area of the Cathedral, Plaza Catalunya, and La Rambla, all great spots for people watching, looking in shops, eating out, and just looking around. We probably spent half of our time in Barcelona within twenty minutes walking of our flat. Our neighborhood itself was pretty quiet, except that a remodeling job was going on next door that started around nine every morning. Oh, and there was a guy who walked up and down our street every morning singing "Bano" at the top of his lungs. By the end of our time on Barcelona, we figured out that he was selling orange tanks filled with propane, which you see all over that part of Barcelona.
The flat itself was fine, comfortable given the price and met all of our needs. It had a full kitchen and a second bedroom, neither of which we used. The bathroom had the smallest hot water heater I had ever seen, holding maybe ten gallons. The first morning, I shaved with the hot water running - mistake. Neither of us got to take a warm shower until later that day.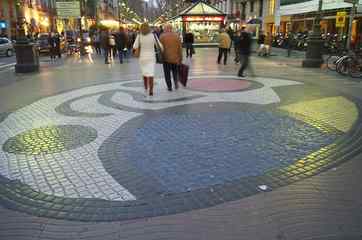 La Rambla is a broad street that goes through the center of the old part of Barcelona. The roadway portion of La Rambla consists of two narrow lanes of traffic in either direction. The two lanes are separated by a pedestrian island that is itself about six lanes wide and is for foot traffic only. There are shops up and down the island that sell all kinds of things - newstands (open 24 hours), flowers, birds, art, and souvenirs. A number of restuarants have tables in the pedestrian island as well. We found people walking up and down La Rambla at all hours of the day and night. (Late at night, at least part of the street is given over to some of the most aggressive prostitutes I have ever encountered anywhere. We found out later that most of them are cross dressers.)
Since our flat was so close to La Rambla, we spent a good deal of time walking up and down the street. It was one of the most enjoyable facets of our trip.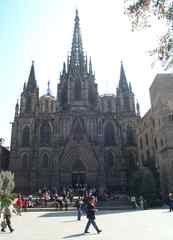 Our flat was a short walk away from the old Cathedral. As we had low energy the first day of our trip due to the long flight over, we thought that would be a good day to take a walk through a part of town that was close by. The Cathedral and environs are interesting - there are remnants of the city wall built during Roman times, ancient government buildings, narrow streets, and pretty courtyards and plazas.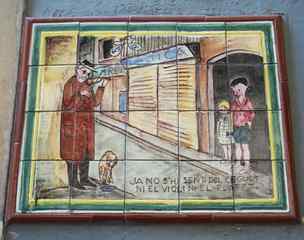 In general, Barcelona is a great walking city. We walked everywhere. We came across many, many interesting sights on our walks. If you click on the picture, you'll see some of them.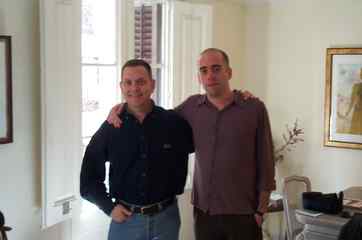 One of the great treats of our vacation was to get together with a fellow I had worked with in Oakland a couple of years ago. He moved to Barcelona just before September 11, and decided to stay there for a while. We had fun seeing Ubaldo again, seeing what a Barcelona apartment looks like, having lunch with him and walking around the streets of his neighborhood, the Raval district.
Gaudi's Heritage
Antoni Gaudi was perhaps the leading architect in the world during the Modernist period of the late 1800's. He resided in Barcelona and desinged most of his works for the city. Many times when we were walking around, we turned a corner and faced some Modernist masterpiece, and discovered that it was yet another work of Gaudi.
Aside from seeing Gaudi's buidings all over the place, we sought out and toured three of his most famous: Guell Park, Casa Milà (also known as La Padrera), and the Sagrada Familia Cathedral.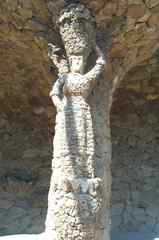 Eusabi Guell was a rich patron of Gaudi. In the early 1900's, Guell commissioned Gaudi to design a park in the hills on the west side of the city. The result was Guell Park, a fanciful place full of mosaic iguanas, mushroom-shaped chimneys, sun medallions, and walkways with leaning columns. We took a long walk through the park and admired all the creations. Gaudi loved the park, too - he built a house there and lived there from 1906.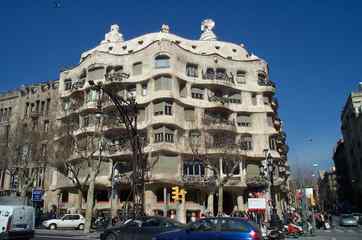 Casa Milà, Gaudi's last commercial design, was built between 1906 and 1912. It's famous for its undulating facade, beautiful cast-iron doors and balconies, and fanciful chimneys.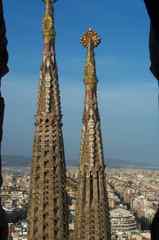 The Sagrada Familia is probably Gaudi's most famous work. Construction began in 1882 and continues to this very day. It seemed to us that the Cathedral would be under construction for at least the next fifty years. It continues to follow plans left behind by the architect.
A Day Trip to Figueres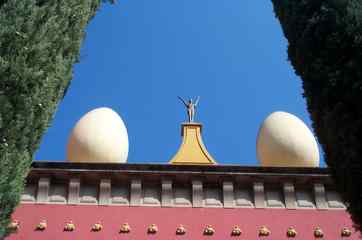 After four days in Barcelona, we were ready to spread our wings a little and take a day trip. A couple that were of interest were to see the monastery at Montserrat and to visit the Dali Museum in Figueres. We felt more whimsical than monastical, and so opted for the Dali.
It was surprisingly difficult to figure out the Spanish train system. It is not a matter of just going to the train station, finding someone who speaks English to help you, and buying your tickets. Barcelona has a number of train stations (at least three, as far as I could tell), and if you go to the wrong one, you won't be able to buy a ticket to the destination you want. After several tries, we finally found the right station for trains which departed to Figueres. Unfortunately, we missed an express train by several minutes, so ended up waiting about an hour in the station for a milk run train that stopped in every small town north of Barcelona. In all, it ended up taking us about three hours for what could have been a journey of about an hour an a quarter.
Figueres is a town of about 100,000 or so maybe 100 miles to the north of Barcelona, perhaps 50 miles south of the French border. It is not especially remarkable or beautiful; the Dali Museum is pretty much the only show in town. After grabbing lunch, we headed to the museum, about a 15 minute walk from the station.
What a strange and intersting place! Large eggs everywhere, sculptures on top of tires, and jewelry with beating hearts.
We hopped an express train (yay!) back to Barcelona from Figueres at about four and had a pleasant and much easier trip back.
Valencia, Spain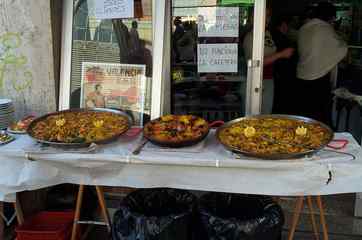 On Friday morning, we took a cab to the airport, picked up our rental car, and headed south to Valencia, where we were meeting some friends for something called Las Fallas. I knew next to nothing about Valencia and nothing at all about Las Fallas; now I am a big fan of Valencia and grateful that my friend Jim suggested that we visit there that weekend.
The trip south was not especially interesting as we were driving on freeways and not stopping in the towns along the way to see what was there. We stopped for lunch about halfway to Valencia, then continued south. We made it to Valencia around four, then groped our way around town trying to figure out where our hotel was; we found it at around quarter to five.
We took a long walk around Valencia our first night there and it became obvious quite soon that Las Fallas was a remarkable time to visit the place. The city itself, the third largest in Spain, is beautiful, old, well-preserved, less austere than Barcelona. Prices were lower, even during the fiesta weekend. Like Barcelona, the old neighborhoods are beautiful, but somehow Valencia seems more Spanish. We heard a lot more Spanish being spoken in Valencia than in Barcelona, where the natives prefer Catalan to Spanish. (It might have been because of the influx of tourists from all over Spain to be there during Las Fallas. Valencia has its own dialect, called Valenciano, which seemed to be a lot like Catalan.)
Watching a Bullfight
Part of the goings on during Las Fallas is bullfighting. There were programs every night we were there. When I saw the bullfight ring next to the train station, I consulted Chris and we decided to get tickets if we could. The bullfights were sold out Friday and Sunday, but a few tickets were available for Saturday night.
So off we went to our first and probably last bullfight. A bullfight is quite a spectacle - there is traditional music and costumes. The crowd really does shout, "Ole!" But it is a gory thing, and far too one-sided for my taste. We stayed for four (out of six) rounds of bullfights; the matadors won three times, and once the bull gave up, sat down in the middle of the ring, and refused to continue. Smart bull! We left when we had seen all we could stomach.
Las Fallas and the Mascletá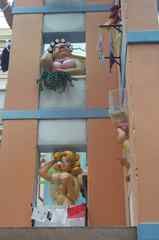 Las Fallas, held between March 13th and 19th, is the feast of the patron saint of Valencia, St. Joseph. It is unusual in that is falls during Lent but is still celebrated in a big way. "Falla" means "flaw" or "human error" in Spanish. Local artists build sculptures of papier mache, wood and wax, that satirize or symbolize our human flaws. They are quite elaborate and some are quite large. There were dozens of them all over Valencia. And they are all burned to the ground the night of the feast of St. Joesph, March 19. Although we did not stay for the bonfires, we definitely enjoyed seeing the scupltures and being in Valencia during Las Fallas.
In addition to the bullfights and the sculptures, fantastic firework displays are held every night at midnight. We saw some of the best fireworks in Valencia that I have ever seen anywhere. And there is the mascletá.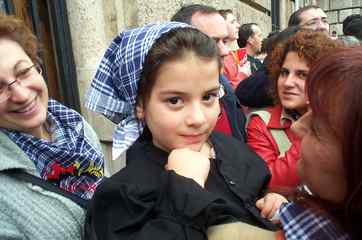 The mascletá occurs daily during Las Fallas. The Spanish apparently love to make loud noises, and the mascletá is one of the loudest I've heard. At 2:00 in the afternoon, they explode mortars in the center of the city. A huge crowd gathers to hear it, and all go home with ringing ears.
Peñiscola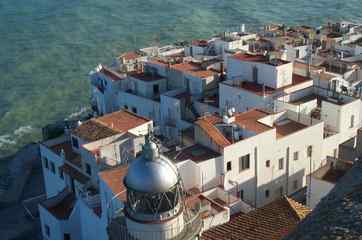 After a day walking around and seeing more fallas, and a final lunch of Paella a la Valenciana, we left Valencia. We decided to break up the long drive back to Barcelona with a trip to the coastal town of Peñiscola, which sits on the Mediterranean about an hour north of Valencia. We enjoyed walking through the castle, built by the Knights Templar on a Moorish foundation. The castle hosted one of the popes (Luna) in the period in which the popes were exiled from Rome. The views of the Mediterranean Sea and of the small town below the castle are great - the perfect antidote for having been in bustling Valencia for three days. We made it back to Barcelona by around 9 PM, fell into bed, and barely made it to the airport in time for our 6:30 AM flight back home.
Index to Photos

Our apartment and its environs

La Rambla

Around Barcelona Cathedral

Walking around Barcelona

Visiting Ubaldo

A walk through Gaudi's Guell Park

Gaudi's Casa Milà

Gaudi's Sagrada Familia

A day trip to Figueres

Walking around Valencia

Toro! Toro! Ole!

The mascletá

Las Fallas (Part I)

Las Fallas (Part II)

Las Fallas (Part III)

Visiting Peñiscola on the way back to Barcelona