New England and New York, 2003
You can navigate to the pictures of my trip by clicking on the thumbnails in the narrative. You can also scroll all the way down to the bottom of the screen, where there are links that will take you directly to the photographs.
Chris and I took a week-long vacation to New England and New York in early October of 2003. We wanted to see our friend James, who was a freshman at Yale, tour a little in New England while the leaves were changing colors, and spend some time in New York City just having fun.
Visiting James in New Haven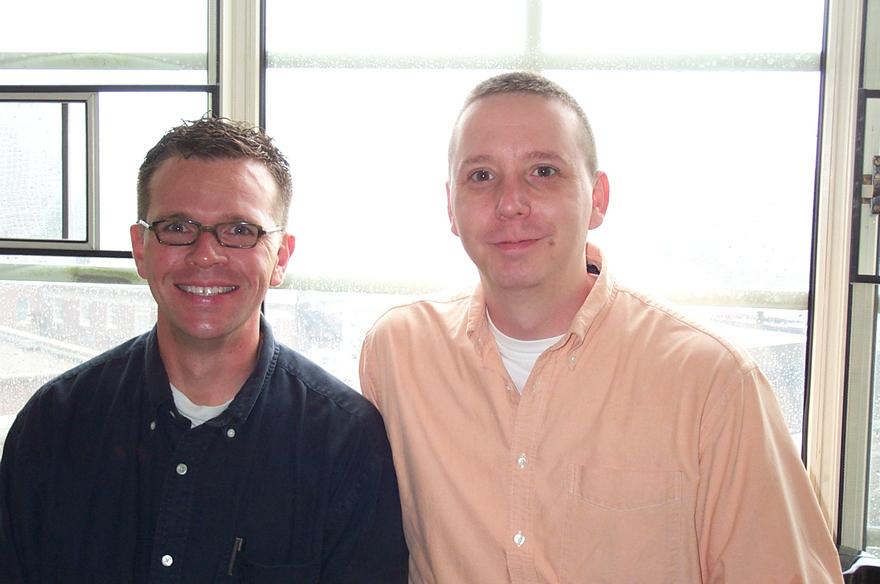 We drove up to New Haven the night of our arrival, which was a rainy Saturday night. Too late to see James that evening, we went off to downtown New Haven for some dinner. I had been there a number of times when I had traveled to nearby Trumbull on business. So we visited a couple of places from my past, Pepe's for pizza and Libby's Italian bakery.
The next day, we met James at his new home, a two-room penthouse suite at the top of a tall dormitory on the Yale campus, right near the hospital where he works. Really, one of the nicer college dorm rooms I have ever seen. James gave us a mini-tour of the Yale campus, as much as we could take in during a driving rainstorm. Despite the foul weather, it was great to see him. We shared a great time together over lunch and coffee, then headed north to Vermont.
Touring and Hiking in Vermont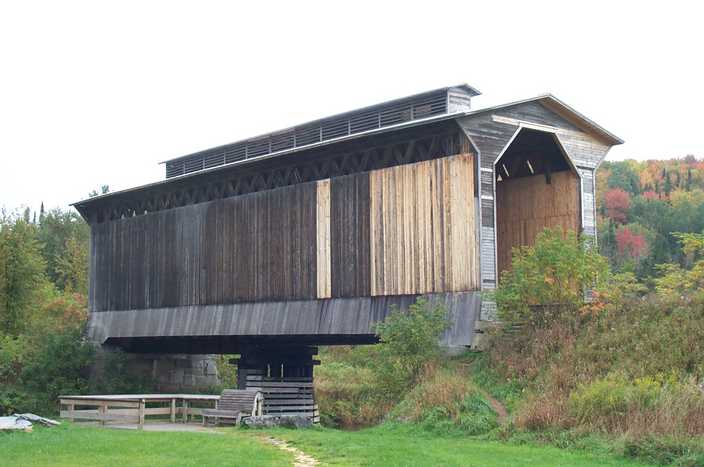 We took a long day trip in Vermont that took us through the central part of the state. We were a little early for the fall colors; saw only a few pretty leaves. But Vermont is pretty any time of year, and we enjoyed our drive through the forests, farmland, and small towns.
Among the highlights of the drive were lunch in Stowe, a stop at a covered railroad bridge, and a guided tour of the Cabot Creamery, where some of the best cheese in North America comes from. During another rainstorm, we stopped at the Ben and Jerry's factory, which is a huge tourist trap and not worth a stop in my opinion.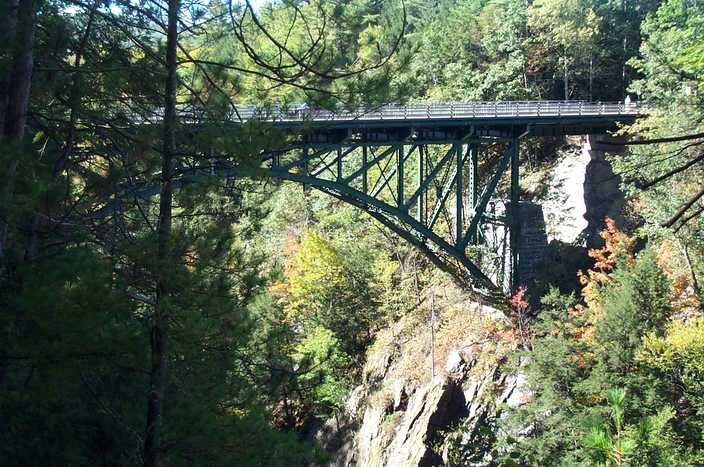 Before leaving our inn in Vermont, we took a hike several hours long into the Quechee River Gorge, which was very close by. The hike was gorgeous. The path took us by a beautiful marsh pond, next to a dammed-up waterfall, under a highway bridge (US Highway 4), and right into the gorge. We hiked all the way down to the river bed.
Images of New York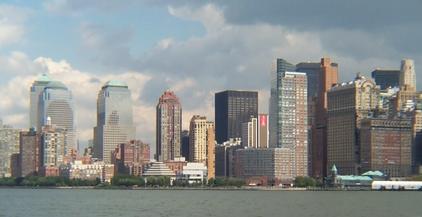 Following our time in New England, we spent six days in New York City. While we didn't take the camera with us very much, we did take some shots of a trip to Ellis Island and ground zero.
Index to Photos

Visiting James in New Haven

Touring in Vermont

Hiking in Vermont

Images of New York